BRAKES

The first modification is for the brake levers on the handlebar. The aim is to brake with two fingers. The levers of the front and rear brakes are both on the right side. To do so, I took two bar ends ang plugged them one into the other. This makes a kind of 'T' which is put on the handlebar. One brake is set on the handlebar the other is on the 'T'.
This configuration allows to set the position of the two levers very finelly. So even if you have big fingers, you will succeed to find a good position for your lever.
HOPE's brakes (front : C2 with 185mm disk, rear : M4 with 185 mm disk) are amazing. Even with one finger, you can reach a really powerfull and progressive braking.


GEAR SELECT

I am usig a SRAM Dual Drive system. This system allows to change the front and rear gears with only one hand. The rear gears are handled with a grip ship system. The front gears are managed with a button. In fact, the front pulley is replaced by a 3 speeds gear hub in the rear wheel.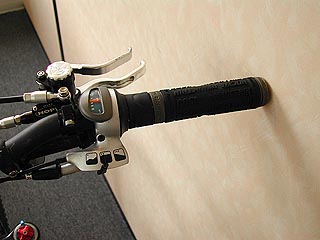 SADDLE

Even if I am not downhilling in excessive speeds, I'm using a DH Saddle (TIOGA Multicontrol). It helps a lot to stay on the bike. As it is squite hard to get behind the saddle and hold the bike with one hand, I use my thighs on the saddle to control the bike. It also helps on hard braking. As the body is going forward, the length of the saddle helps to keep the back on the saddle and not on the frame.